First of all, if you haven't read the Ride Day – How It Will Work yet then please do before you show up. It will save the dazed and confused look on many faces. Don't just skim, read it all. Ask'n all nice like.
​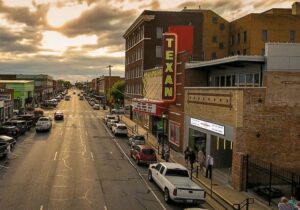 Secondly, registration being from 6:30-8 ride time, you might be wondering what to do with your time. The Good News is that one of our main sponsors the "Texan Theatre" is located 1 block down from registration. No, I don't mean go to a movie, the Texan has a coffee, specialty cafe coffee and grab-to-go breakfast options for you.
She'll open at 6:15 and have regular drip coffee, fancy coffee (like from that OTHER coffee place), teas, grab and go breakfast like pigs in blanket and breakfast tacos, also, made to order breakfast tacos and sandwiches even have low carb "breads" and alternative milks like soy, coconut, and almond.
Barb Horan is the owner and has created a great attraction in Greenville. Just look down the block a piece and notice this sign and ride on over.
See you Saturday. I'll be re-sending your registration codes over next in case you missed the last few.
Oh, did I mention that TXDot donated some fresh chip seal for our ride? Yep, timing was perfect cuz no ride in the Texas countryside is complete without a bit of chip to go with it. Us ranch boys and girls not bothered by no kinda chip seal. Don't worry, only a couple of miles, as in about 2.

See you there partner!