Good news, we've updated the downtown parking and directions map for your ride. Many of you are unfamiliar with Greenville and it's easy to get disoriented. We've tried with this map to make it easier.
Go to https://cottonpatchchallenge.com/parking-map/ and you can download a PDF version to your phone or device.
It has orientation helps to make it as easy as possible. Our parking crews will assist you with directions when you get into town. Remember that previous year parking at Ain't Just Pie/Farmer's Market is off limits as they are open for business and need the room.
​Also, we want to feature another ride sponsor for you to grab some grub from. The Empty Glass Steakhouse & Saloon Greenville Texas has a FB page only: https://www.facebook.com/Empty-Glass-Steakhouse-Saloon-Greenville-Texas-104068764381196/. They will open at 12:00 so we encourage you to sunder on down yonder on Lee St. and check them out.
​In addition there is wonderful Mexican ice cream to be had on Lee just a bit further down the block. La Sabrosita Fruteria & Neveria on the same block as the Saloon. Kids and adults will love it.
​We're busy getting it all together for you. Look for the yellow shirts of Staff to assist you and answer your questions. They are all volunteering their time just for you. We're sweeping the route to clear it from debris and dead stuff. There will be signs and street painting to point you plus police and corner marshals to help keep you on track.
​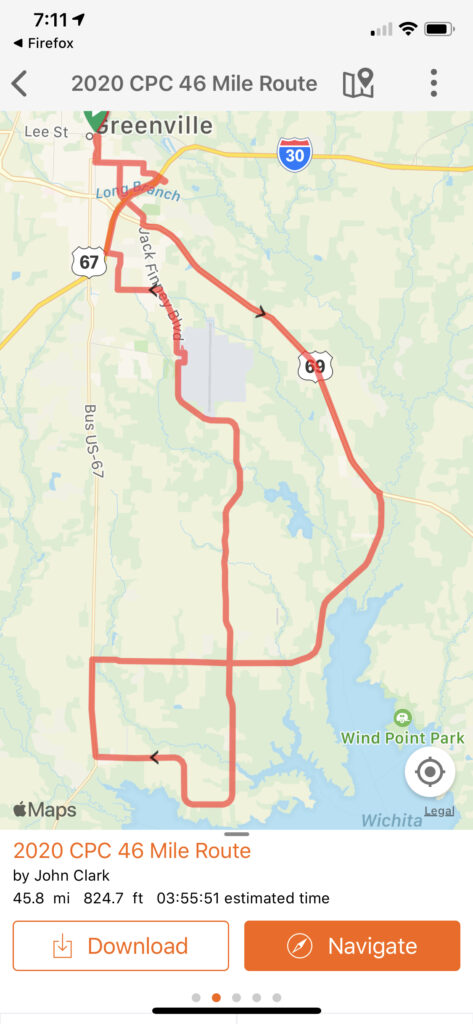 I also recommend downloading Ride with GPS on your phone. In future years this will be our new corner marshal as rider standard equipment.
It's free and the free version will allow you to self navigate the ride.
This replaces physical maps and the cost of printing them.
After you download the app you can go to our Maps and Routes Page: https://cottonpatchchallenge.com/maps-routes/.
Then click on the mileage link you want to ride.
It will open up in your app directly and you can then hit navigate to guide you step by step through the route. Easy as eating ice cream.
If you get the subscription version you can download it to your phone in case you loose GPS signals.
Finally, if you haven't read over the "What to Expect on Ride Day" at https://cottonpatchchallenge.com/ride-day-how-it-will-work/ then do it before you come.
We're looking forward to you being our VIP guests in Greenville. Texas doesn't get any friendlier than the folks here and we're glad to have you wheel around in these here parts.
​Ready to Ride?
​John Clark
Ride Director