Congratulations! You made it into the ride. It is sold out so if you do not plan to attend please notify the ride director, John Clark johnc7482 at gmail, for cancellation so make room for those in the queue. No ride day cancellations are refunded.
Now what should you expect as ride day comes?
Parking
This is the map for parking for Saturday morning you can jump to. It opens a new tab. You can download a PDF version if you like. ONE NOTABLE CHANGE from previous years: the lot at Ain't Just Pie/Farmers Market will not be available for riders. The city plans on having a Farmer's Market that day and the restaurant will be open. That lot is NO PARKING this year. Note also on the map the line up area for riders as mapped out. More on that below
Check In Process
Check in is 6:30-8am at Landon's Winery. That's on the corner of Johnson St. and Lee St. You can easily see that also on the Parking map. There are no packets or goodie bags this year. The check-in will be done by the QR code you received from Active after you registered. I'll also be sending it out again before the ride, shortly. Check in procedure:
Easiest is to have your QR code showing on your phone from the email, or printed out. When you step to the table hold out your code and we'll quick scan it and issue you your numbered Bib. Your number is also on the email with your QR code. If you ordered apparel that will show also. You may pick up your T or riding Jersey/Shorts right then OR pick them up when you return. We'll keep it safe for you.
If you don't have your QR just give us your name and we can look it up and check you right in as well.
If you haven't signed your waiver (I've send numerous reminders to do that) you can still do that on the spot, we'll know if you have or not. We have to have your waiver for liability. Somebody always crashes.
Once your check in process is complete and your bib is issued, your are free until you want to line up.
Get Your Picture Taken
Look for the photography backdrop and wheel on over for a CPC photo. We'll have photos taken and uploaded on this website in a Gallery for you to see and download, or take your own selfie right there.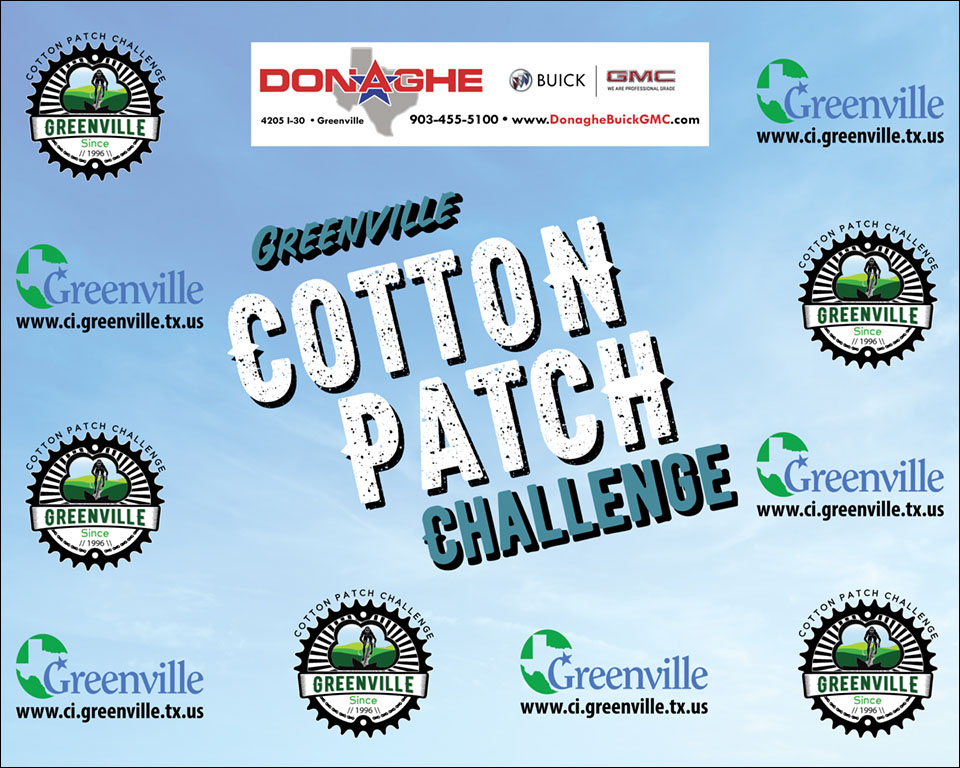 Line Up
The city requests that masks be warn when you line up. As you can see below we will be lining up in blocks according to miles you expect to ride. If you are a 74 mile rider you will want to line up in Zone 1 and so one. We will have staff to assist and the streets will be marked with cones and paint to mark your line up area. See below for how we'll line up within each zone.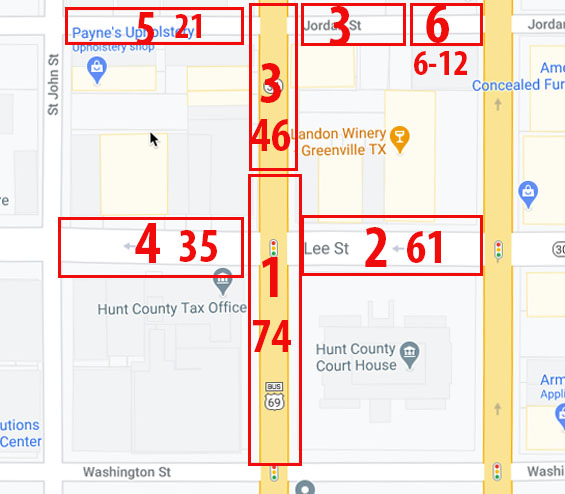 Each Zone will have rows of 7 riders across the road and each row must be 14′ apart. This is what the city has required us to do. All beefs can be stored at your local meat market, we don't have any coolers. Gotta do what we gotta do, but you get to ride. Below is a sample for Zone 1. Want to be in the first row? Line up first then.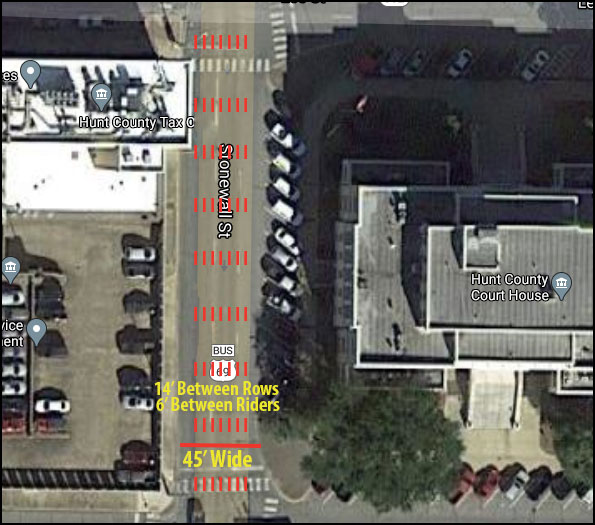 Our famous announcer, Bob Mudie, will start you. He will call on Zone 1 74 milers to go at 8am. Once those riders are off, Zone 2 will move up to the starting block in Zone 1. Then the rest of the zones move up accordingly.
Rest Stops
We have 7 rest stops with great volunteers ready for you. We are allowed to only serve pre-packaged snacks, bars and goodies. Only bottled water or Gator-Aide packets to add to your water available. No refilling your water bottles except by bottled water. Hand sanitizers will be available at each rest stop along with a tire pump (also on the SAG vehicles). Masks optional with proper distancing.
SAG Support
There will be 8 SAG vehicles roaming the route constantly. If you have a break down or need support you should call our SAG Director, David Weiland, at 214-802-8679. Put that number in your phone contacts ahead just in case. You can just wait for the next vehicle or call to get them immediately. That is also the number for medical needs as David can get dispatch to send help right to you. 911 is also alerted ahead if needed. Know were you are and call.
A special shout out to Donaghe GMC for being our title sponsor and supplying our SAG trucks every year. Each SAG vehicle will have a tire pump if you've simply run out of CO2. Heck, I'd break down just to ride in one and cool down.
In addition, Rockwall Cycling and Richardson Bike Mart will also be on the course for bicycle repair needs. Have a serious breakdown? Don't quit. Call for a SAG to give you a ride to the repair vans and drop you back off to finish your Challenge.
Special thanks here to Sabine Valley and Rains County Amateur Radio Associations, the Christian Motorcyclists Association and all the first response teams along the way.

Ride End
Once you've conquered your Challenge you'll be welcomed back downtown by our crew. If you need to pick up your T order please do so immediately. You can ride over to your favorite downtown restaurant and grab some grub or a brew and enjoy the memories with others. Landon is open for wine, beer and cheese trays, Ashen Rose is also a great pub with a fine selection of draft beer. The Empty Glass Saloon is new this year and also have great food and drink. Don't forget La Sabrosita Fruteria for some of the best ice cream this side of the Rio Grande. Ride your bike over (secure it with a lock) or stow your bike at your vehicle and walk over. We also have great restaurants as you exit town on Wesley St. south.
Note the official course closure is 2pm so pick your ride to get you back in time. That's when the SAG cars do their last sweep and all rest stops pack up.
Normally we have smoothies and showers and even a full blown festival going on downtown but this year is what it is and we're just happy to get the ride to you. Thank you for coming. Hope to see you next year, 9/18/21 as we plan to be back to normal operation.
John Clark – Ride Director.